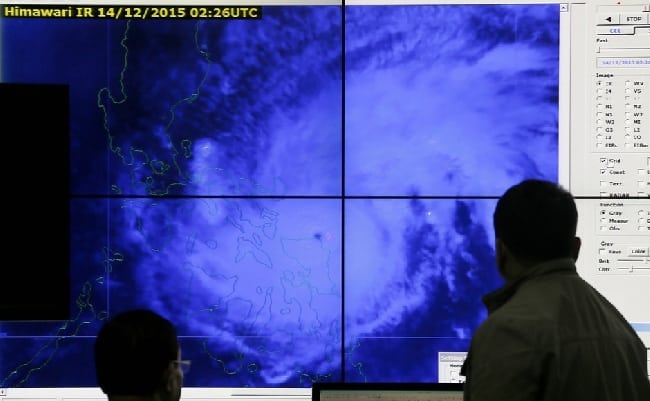 RESEARCHERS believe typhoons that make land contact in the East and Southeast Asian regions will only grow stronger as global temperatures continue to rise.
According to a study published in the Nature Geoscience journal Monday, typhoons that slam into land in the northwestern Pacific — especially the biggest tropical cyclones of the bunch — have gotten considerably stronger since the 1970s.
The study's lead author Wei Mei, a climate scientist at the University of North Carolina, connects the strengthening of these storms to warmer seawater near the coasts. This, she says, provides more fuel for typhoons.
Mei and two other scientists note in the study, however, that it is too early to expressly suggest that the increased intensity is from man-made climate change.
The study's abstract said intensity changes in landfalling typhoons are of great concern to East and Southeast Asian countries.
SEE ALSO: Typhoon Lionrock slams into northern Japan, 9 reported dead
However, regional changes in typhoon intensity, it said, are poorly known, owing to inconsistencies among different data sets in the research.
Mei and fellow researcher, Shang-Ping Xie, reconciled the data by correcting differences in methodology, discovering a substantial shift towards more intense typhoons over the span of nearly four decades, the journal said in a press release.
Using a cluster analysis, they found that landfalling typhoons show much stronger intensification than those that stay over the ocean. They attribute these changes to faster intensification, as opposed to a longer period of intensification at the same rate.
SEE ALSO: 120 flights cancelled as Typhoon Nida heads for Hong Kong, China
The researchers applied cluster analysis to bias-corrected data and showed that over the past 37 years, typhoons that strike East and Southeast Asia have intensified by 12 to 15 percent. The proportion of categories 4 and 5 storms have doubled or even tripled.
"In contrast, typhoons that stay over the open ocean have experienced only modest changes," the abstract of the study read.
"We find that the increased intensity of landfalling typhoons is due to strengthened intensification rates, which in turn are tied to locally enhanced ocean surface warming on the rim of East and Southeast Asia."
The researchers said the projected ocean surface warming pattern under increasing greenhouse gas suggests that typhoons striking eastern mainland China, Taiwan, Korea and Japan will intensify further.
"Given disproportionate damages by intense typhoons, this represents a heightened threat to people and properties in the region."
Report shared by HanoiJack