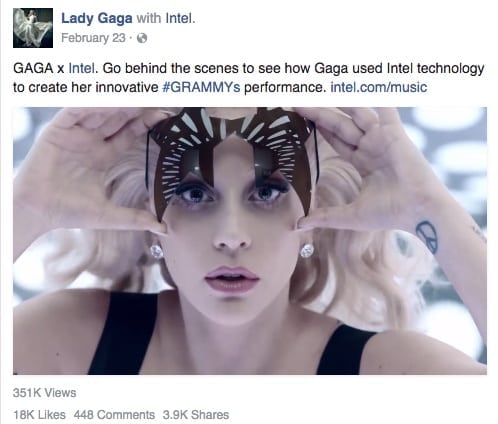 Facebook rolled out Branded Content, which allows trusted and verified brands to tag other brands or businesses within their posts as a way of declaring sponsorship or paid advertising. I'm sure you can grasp the marketing value of having a trusted brand tagging your business in a post that is then seen, commented on and shared by thousands. If done right this is a serious marketing opportunity, especially for those representing big brands.
This is how it works…
According to Facebook's Getting Started with Branded Content PDF guide it goes something like this.
Publishers are required to tag the marketer's Page in any post that features a third party brand, product, or sponsor. When tagged, the marketer will be notified and will be able to see high level performance insights, such as reach and engagement for the post. They also have the ability to share the post to their Page and put additional spend against it.

Look for the "handshake" icon in Page composer to add the branded content tag. In Ads Manager and Power Editor you will see a "Sponsor" field. Note: this is not available for Verified Profiles or Unverified Pages.
Facebook has integrated their Branded Content into all of their different user interfaces so regardless of which one you use it's there for you.
Here is the example Facebook shared of Lady Gaga tagging Intel in a post:
Once you've been branded by a Blue Verified Page, like a big publisher and influencer (think celebrity), then you will see this type of data within your Facebook Insights so that you can get the most out of the campaign and even boost the post on your end.
This shift by Facebook to allow business and influencer pages to tag other businesses is big. So big in fact that we can't explain all the nuances within this update so we highly recommend that you read Facebook's PDF Guide as well as this fantastic article that explains how smaller businesses can leverage this opportunity by buddying up to bigger brands.