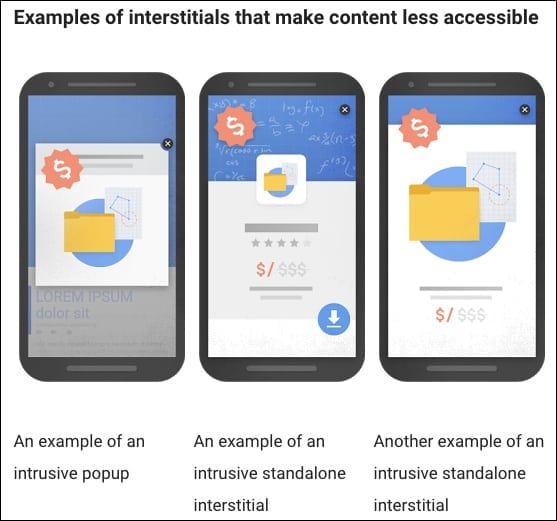 This month Google announced that any website leveraging "intrusive interstitials" that hinder the users' ability to access the content on the page will not rank as highly after January 10th, 2017.
The only thing surprising about this announcement is all the warning they're giving webmasters to figure it out. Google made it very clear in 2015 that interstitials were not a benefit to users and targeted app interstitials specifically. When that news hit the presses, we here at SEN have been warning you about the use of ANY interstitial that interferes with the content on the page, is hard to close or gets in the way of your users' mobile experience in any way. You know the exactly what type of pop ups we're talking about because everyone hates them so it's no wonder Google is trying to get rid of them – no matter how effective they are for marketing.
Google described the interstitial techniques that their new penalty would be targeting like this:
Showing a popup that covers the main content, either immediately after the user navigates to a page from the search results, or while they are looking through the page.
Displaying a standalone interstitial that the user has to dismiss before accessing the main content.
Using a layout where the above-the-fold portion of the page appears similar to a standalone interstitial, but the original content has been inlined underneath the fold.
Then Google went on to describe which interstitials that would NOT be targeted with this new ranking signal like this:
Interstitials that appear to be in response to a legal obligation, such as for cookie usage or for age verification.
Login dialogs on sites where content is not publicly indexable. For example, this would include private content such as email or unindexable content that is behind a paywall.
Banners that use a reasonable amount of screen space and are easily dismissible. For example, the app install banners provided by Safari and Chrome are examples of banners that use a reasonable amount of screen space.
This shift to add a more universal interstitial rule into the overall ranking signal does affect the previous app interstitial signal. Going forward, Google announced that they will be removing the app interstitial warning from their Mobile Friendly test and will instead roll it into this new signal. Read the details straight from Google here.
And…if you want to see how poorly Yelp's CEO is publicly handling this new penalty, when their site has a known reputation for bad popups, go here.