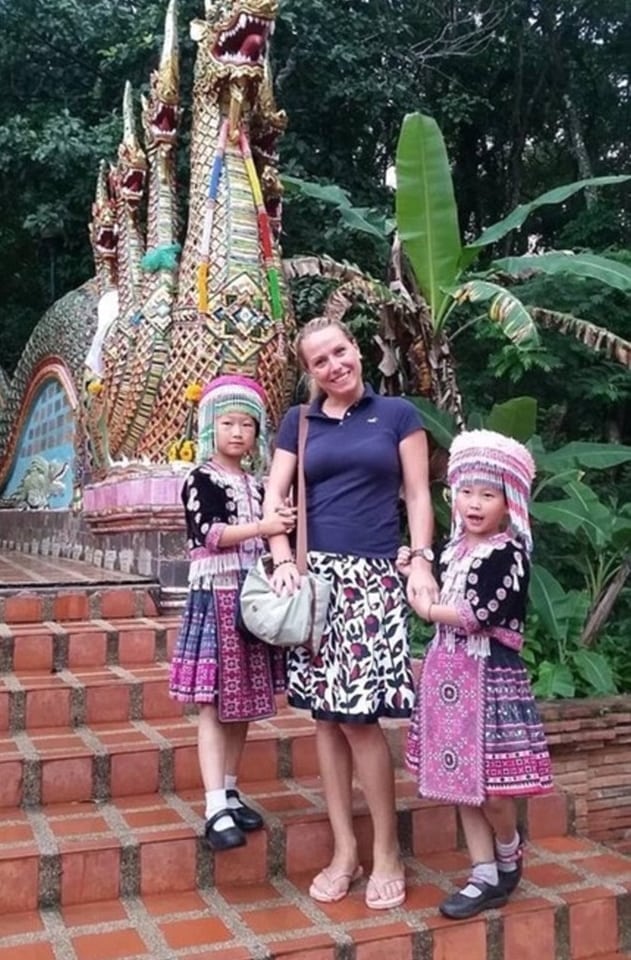 A man has captured the moment two young pickpockets slipped his girlfriend's watch from her wrist as she posed for a photograph with them at a Thai temple.
The man posted an image to Reddit of the two young girls wearing brightly coloured traditional Thai costumes holding his girlfriend's arm earlier this month outside Wat Phra That Doi Suthep in Chiang Mai, a province in Thailand's north, on Sunday night.
The woman, who has not been named, smiled as one of the cunning thieves gently unclasped her wrist watch while her partner captured a photograph, with the travelling couple only noticing once they reviewed their holiday snapshots.
'This pic solved the mystery of the missing watch,' he wrote, conceding the pair had a bit to drink before going to the temple.
Thousands of people commented on the thread, with some Reddit users sharing their own pictures of the two girls from their own trips.
'I've seen those little thieves before,' one man wrote. 'Adorable, adorable thieves. I didn't suspect a thing when I saw them,' said another.
One reddit user said the girls must be the 'two most popular child thieves in all of Asia', while another observed there were around six girls in the same outfit and guessed they could be an 'organised gang'.
My girls are innocent – mother claims
One tourist said he must have dodged a bullet as he decided made the last minute decision not to have a photograph with the pair.
'Holy c**p! I was tempted to ask for a photo with them when we saw them at the temple but didn't want to be 'that tourist' and was also worried that their momager, who was lingering around, might scream at me for money if I went near them.'
Some commented on their pick pocketing style, noting they touched their target in several places so she didn't notice her watch being snatched.
'Notice how the thief is touching her hand in several places? It's a pickpocket technique so that the mark gets accustomed to being touched by the thief and stops registering all of the touches.'
While others said the girls were likely poor and were stealing to make a living for their family.
'A thousand plus people visit that site daily. I'm pretty sure those girls are dressed up to simply take pictures with tourists for tips. It's probably the family's income.'
The Jack Report: Are Days Numbered For The Thai Tourist Industry?