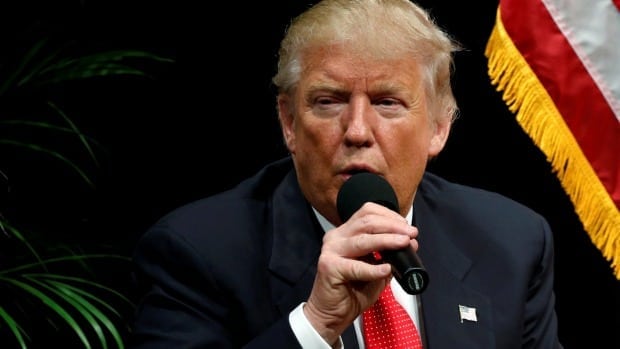 US Republican presidential candidate Donald Trump's no stranger to criticism of his views on women, but an old radio clip, which resurfaced this week, might be one of his worst gaffes yet.
The 2004 interview was dug up by The Daily Show, and aired on Wednesday night before a stunned audience.
Trump appeared on shock jock Don Imus' show, Imus in the Morning, on December 2, 2004, where the pair discussed the arrest of a 23-year-old female teacher, Debra Lafave, on charges of having sex with a 14-year-old male student.
And, as in so many instances before and after the interview, Trump was fixated on one point – the woman's looks – but he added a touch of victim-blaming for good measure.
In the interview, Trump said to Imus: "How would you like to be the husband of the wife that was playing around with a 14-year-old kid? Unbelievable. By the way, did you see what she looked like?"
Between them, the pair agreed she was "not bad", and Trump added: "I know a lot of guys who are trying to date her right now, Don."
Imus told his guest: "I don't know what your teachers looked like when you were in school, but…" and Trump responded: "None of them looked like that, believe me."
From there, it only got worse, with Trump blaming Lafave's victim for the sexual assault.
"So do you think this 14-year-old kid is scarred forever? He might have put the move on her. It might have given him confidence, actually," Trump said.
Lafave pleaded guilty to sexual battery the following year.
In another clip on The Daily Show, Trump was shown on stage with his arm around a young woman, as he told the audience at an educational event about "a beautiful girl who was 17 or 18", who applied to be a waitress at one of his properties.
"So beautiful. She's like a world-class beauty," he said.
"My people came, they said, 'Mr Trump, she has no experience.' So I interviewed her anyway because she was so pretty.
"And I said, 'Let me ask you, do you have any experience?' She goes, 'No sir.' I said, 'When can you start?'"
Trevor unearths a deep cut in the Donald Trump sexism archive.►Full video: http://on.cc.com/2dCubK5

Posted by The Daily Show on Thursday, September 29, 2016
Trump was yet to publicly respond to The Daily Show segment.
His historic comments surfaced as he faced mounting strife over his past remarks about women, including Alicia Machado, the 1996 winner of Trump's Miss Universe pageant.
In Monday's presidential debate, Democratic candidate Hillary Clinton stung Trump with accusations that he called Machado "Miss Piggy", and "Miss Housekeeping", because she was Latina.
Trump, caught in Clinton's trap, didn't deny the claim, responding: "Where did you find this? Where did you find this?"
The next day, as 20-year-old footage emerged of Trump making Machado go to a gym, while news cameras filmed her, he doubled down.
"She was the worst [Miss Universe] we ever had. The worst. The absolute worst," he told Fox News.
"She was the winner, and she gained a massive amount of weight, and it was a real problem. We had a real problem."
Earlier this year, Trump was in hot water after suggesting that if if the United States banned abortion, women who ended pregnancies should be punished, and calling Clinton an "enabler" of her husband, former President Bill Clinton, to have extramarital affairs.