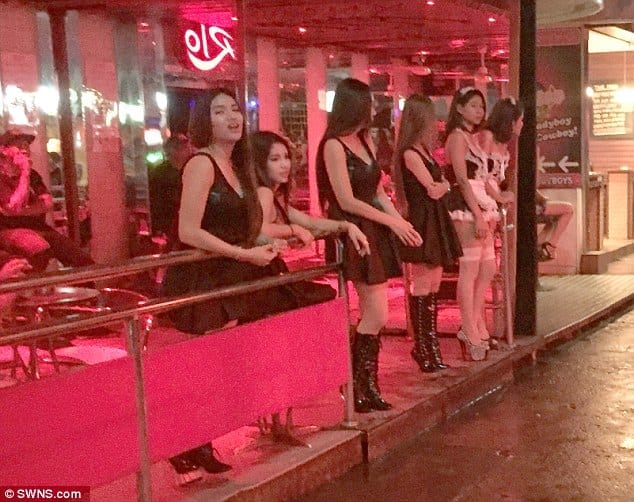 Thailand's red light districts kicked back into life on Monday just ten days after their king died – with sex workers wearing black maid's outfits while in mourning.
The country was plunged into grief when their 88-year-old monarch Bhumibol Adulyadej died on October 13 – bringing the booming tourist industry to a halt.
Entertainment was banned for 30 days with popular tourist attractions like the full moon party cancelled with tourists urged to follow locals by wearing black.
But just over a week after the king died, hundreds of prostitutes lined the streets wearing black mini dresses, maid costumes, black boots, black suspenders and black gartars in their own unique mark of respect.
Pictures taken on Soi Cowboy in capital Bangkok show sex workers who usually wear brightly coloured bikinis dressed instead in black as they look for customers.
While just a mile away on Soi 4 near the infamous Nana Plaza – home to dozens of strip clubs – hundreds of girls and ladyboys in 'respectful' thigh-high black boots and black dresses flooded onto the pavements outside to 'make up for lost money'.
Sex worker Lek, 26, said: 'It is still very quiet. Everybody is sad because the king died.
'But we have to keep working to make money. There is nothing else we can do. We have to go out and find the customer for money.
Tourists complain Bangkok red-light district could be closed for a month
'We are wearing black dresses and boots to be respectful. We don't normally wear big boots like this, Thailand is too hot.
'Maybe in two weeks we can get back to normal. We have to make money again for lost time.'
Transsexual Noi, 24, said: 'We love the king. We love our country. The army understand this and they are letting us work again.
'The bars are open and the ladyboys are back. We're open for business and we want the man to come and see us.
'Most of us wear black now. Black underwear and black dresses. We still have to remember the king.'
Many of the bars, clubs and go go bars in Bangkok have now opened again but their neon lights are dimmed, music is played quietly, and dancing can only be done behind closed doors.
Police and army patrols also ensure venues close early at 12pm instead of the usual time of 2am or 3am before the king died.
Thailand's nightlife and adult industry is expected to get back to normal with loud music and skimpy clothes allowed on the street after the 30-day mourning period.
Report shared by The Daily Mail