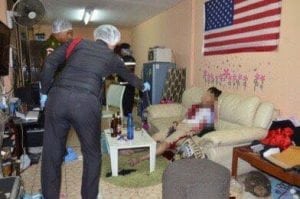 At 1.45pm, on the afternoon of October 26, police in Kamphaengphet province received reports that a young man had shot himself in the head.
At a house in Moo 13, Nakornchoom, Mueng officers discovered the body of  twenty-two-year old Mr. Saharut Ruengketkarn who had suffered a fatal head wound.
There were two bottles of beer and unused rounds on the table and Mr Saharut still had the gun in his hand.
He is known have recently been stressed due to financial difficulties. He had run up large debts by gambling on football matches and had recently pawned a gold ring, necklace and smart phone but had not managed to raise enough money to clear the debts.
Instead of asking his family to help raise the money he needed he appears to have, tragically, decided to end his young life.
Shockingly he chose to do so on a live Facebook stream.
Report by Bangkok Jack News Team