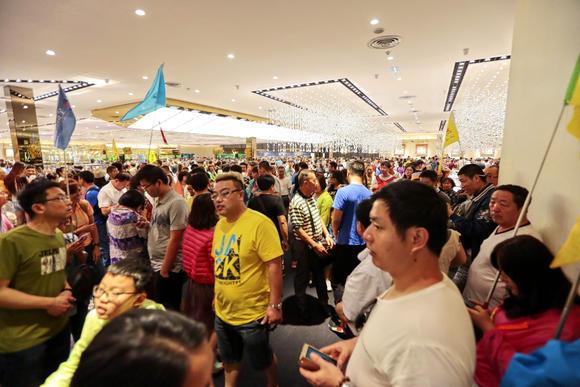 ALTHOUGH tourism has remained a key driver of the economy, the state and private agencies involved in this industry should start exploring new source markets and develop new attractions to better sustain growth for the long term, according to Siam Commercial Bank's Economic Intelligence Centre.
Vithan Charoenphon, EIC head analyst for the service sector, said yesterday that over the past five to seven years, tourism had grown by 13 per cent annually, compared with 7-8 per cent in the years before 2010.
Chinese tourists are the key to the nation's tourism growth.
Chinese are the No 1 travellers to Thailand, contributing 30 per cent of the total.
The Jack Report: Are Days Numbered For The Thai Tourist Industry?

The EIC forecasts the number of tourists next year at 37.3 million against the 33.8 million expected this year.
However, tourism is likely to depend on Chinese tourists too heavily, and those people have strong bargaining power with merchants in Thailand, especially hotels. That means hotels will not be able to raise their room rates.
In case of a slowdown in the flow of Chinese tourists to Thailand, the tourism industry will be in big trouble, and this will drag on the growth of gross domestic product, as tourism's share of GDP is 11 per cent.
Thailand needs to adjust to stay competitive, the EIC says.
India and Indonesia are two potential markets for Thai tourism because of their large populations and growing middle classes.
Both the World Bank and International Monetary Fund predict healthy GDP growth for India and Indonesia, particularly the former, which is expected to boast the world's largest population in 15 years.
The concentration of tourists in the same attractions for many years might impede the growth of the tourism industry in the long term.
Medical and MICE (meetings, incentives, conventions and exhibitions) tourism are good prospects if Thailand can target countries with high healthcare costs like Australia, Germany and France or countries with low-quality services like Myanmar.
However, development of new segments will support long-term growth.
The country should attract new visitors by encouraging film shoots here, building more attractions like amusement parks and hosting major sport events.
For instance, new government incentives can help bring in more film productions and the government can help incentivise construction of more tourist attractions such as theme parks.
Report shared by The Nation