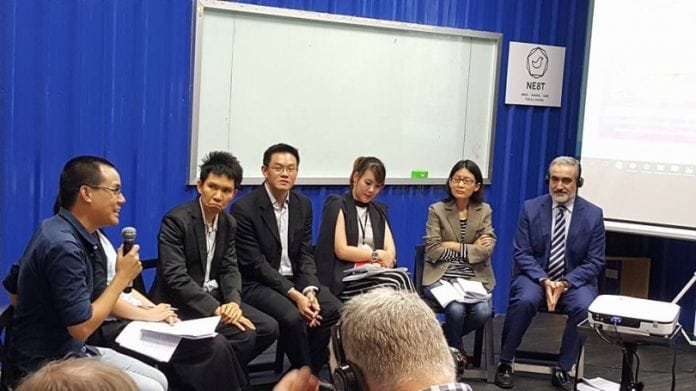 HUMAN RIGHTS and international legal organisations yesterday voiced concerns over the new amendment to the Computer Crime Act, saying it could violate international standards, infringe on the right to expression and hamper digital economic growth.
The amendment, pending deliberation by the National Legislative Assembly (NLA), will deter people's freedom of expression as it will be used to criminalise offences deemed to affect national security, Kanathip Thongraweewong, a data privacy and social media law specialist from St John University, said.
He was speaking at the forum, "Online Life is on the Line", hosted yesterday jointly by Amnesty International Thailand, the International Commission of Jurists (ICJ), Thai Netizen Network and Internet Law Reform Dialogue (ILaw).
The bill created controversy after critics said it potentially restricted people's freedom of expression. The amendment is currently with the NLA's scrutiny committee.
The amended Article 14 will criminalise people who post "false messages", a stipulation that Kanathip said was far too vague and could allow for broad interpretation.
He said the act, which carries penalties of up to three years in jail and a Bt60,000 fine, has already been excessively implemented.
"The law's key objective is to suppress cybercrime such as computer fraud and phishing. Instead, it is being applied in defamation offences," the specialist said.
He contended that the law focuses on content that might be deemed offensive, rather than action that is directly related to cybercrime and can be harmful to the Internet and computer systems.
The bill is also not in line with human rights instruments, which Thailand is obliged to follow as a signatory to the International Covenant on Civil and Political Rights, which guarantees people's right to expression, Sam Zarifi, Asia-Pacific regional director for the ICJ, said.
He said the bill is among the "multiple examples" demonstrating that legal tools are being used to limit people's freedom of speech.
The director warned that Thailand could lose its position as a business hub of Southeast Asia due to such a draconian law. He said the bill, which he hopes the NLA will reject, would "scare away" foreign companies operating in the country, because most of them value their digital privacy.
The bill's Articles 18 and 19 allow the authorities to access and decode any digital data of suspects.
Also at the forum, some activists charged with breaking the Computer Crime Act, spoke of their plight, saying they had been treated unfairly due to the authorities' broad interpretation of the law.
The accused included British migrant worker specialist Andy Hall, who is charged with defamation and violating the Act through allegedly offensive reports on migrant workers in the country.
Report shared by The Nation