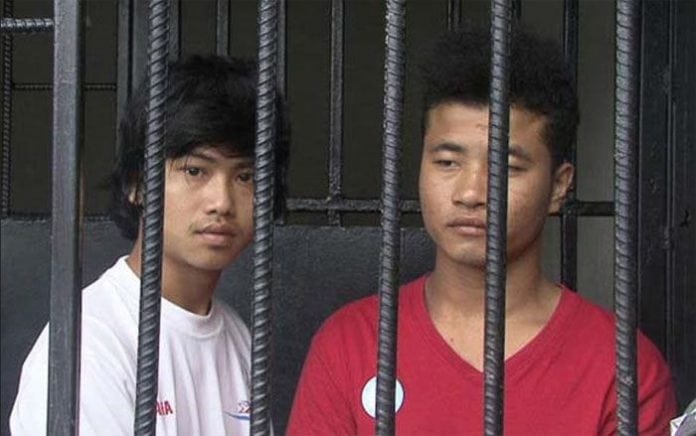 Lawyers for two Myanmar nationals sentenced to death in Thailand are optimistic about a favourable appeal following a recent announcement from the presiding Thai court.
The court announced that no further extensions will be granted to the prosecution, which has delayed the hearing of the appeal nine times since it was lodged in May this year.
The prosecution has been given until November 10 to submit a reply to the defendants' appeal to the court. So far no such action has been taken.

Ko Zaw Linn and Ko Wai Phyo were convicted and sentenced to death in December 2015 for the murder of David Miller and the rape and murder of Hannah Witheridge on Koh Tao, an island popular with tourists.
Koh Tao murder, DNA and saving face
At the time of their conviction, the defendants' legal team said the verdict represented "an extreme miscarriage of justice" and called for the sentence to be overturned as the prosecution's case was based on circumstantial evidence.
In May, the migrant workers' lawyers lodged a 198-page appeal detailing 21 deficiencies in the prosecution's case, including the incorrect admission of evidence and the failure of police to identify a potential suspect in CCTV footage who was referred to as the "running man". Concerns over the veracity of DNA evidence used to convict the pair also plagued the case.
U Aung Myo Thant, a legal adviser from the Myanmar embassy in Thailand, said that if the prosecution did not provide any reply to the appeal by the November 10 deadline, Ko Zaw Linn and Ko Wai Phyo would have a strong chance of a favourable outcome given that the court would have to consider the points made in the defendants' appeal without any rebuttal from the prosecution.
"We don't know how the court will decide on their sentence but it may well be changed if the prosecutor does not make any reply to our appeal. Our appeal is strong and points out many weak points in the prosecution's case that suggest that the crimes may not have been carried out by these two Myanmar migrant workers," said U Aung Myo Thant.
U Sein Htay, chair of the Migrant Worker Rights Network, was similarly optimistic concerning the defendants' prospects.
"If the prosecutor does not lodge a reply to the appeal, this could be a good sign for Zaw and Phyo," he said. He added that this would mean that the court would be forced to consider the points made in the appeal from only one perspective.
According to U Sein Htay, the two defendants were recently visited by his organisation at the prison they are held in. Their mental health is reportedly strong and they hope to soon be released.
Report shared by Myanmar Times