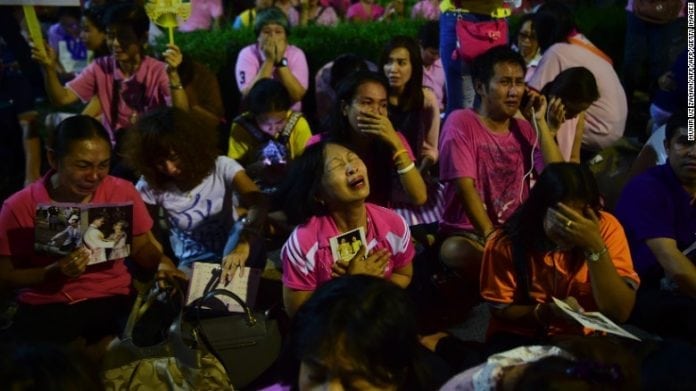 As Thailand mourns the loss of King Bhumibol Adulyadej, who reigned for more than 70 years, visitors to the country may be wondering what impact the situation will have on their journeys and how they can show their respect.
Though the nation is now observing a 30-day period of mourning, the government is encouraging the public to carry on as usual. This means business operations will not be greatly affected.
All airports and public transportation are operating as normal in Bangkok, though some roads have been closed in preparation for the Friday afternoon procession when the King's body will leave Bangkok's Siriraj Hospital for the Grand Palace, where his funeral rites will be carried out.

"Shopping malls, restaurants and tourist attractions are expected to remain open as normal," Richard Barrow, a well-known blogger who has been keeping locals and tourists up-to-date on the situation via Twitter, told CNN.
"However, a number of events have been canceled during the 30-day mourning period," he said.
Full Moon party canceled
This includes the Full Moon Party, a monthly all-night beach party on Koh Pha Ngan island that's a huge draw for international tourists.
"Entertainment venues have also been asked to be respectful and not play loud music. At the moment we do not know if they will be forced to close and if so, for how long," Barrow said.
Many restaurants and bar owners CNN spoke with in Bangkok said they will remain open, but said they've canceled all events scheduled for the near future.
According to local media, red light districts such as Soi Cowboy and Nana Plaza announced they will remain closed for an undetermined time.
As far as accommodations go, none of the hotels that CNN contacted would go on the record about how they are advising staff to handle the situation.
Hotels to open as usual
They said all hotel facilities were open as normal in line with the government's request for normalcy.
Beach resorts were also operating as usual in Thailand's popular tourist destinations on Friday.
"Hotel staff told me tourists are free to enjoy the beaches as usual and nobody is being asked to refrain from wearing swimwear, but there will be no parties on the beach," says travel writer Tina Hsiao, who is staying at a resort in Koh Samui.
According to a palace statement, all civil servants have been ordered to wear black clothing for a year as a sign of mourning, while the public has been urged to wear the symbolic color for 30 days.
How to show respect
Tourists are not expected to follow suit, but "Thais would appreciate it if they wore muted colors during the first 30 days," says Barrow.
"Tourists should also act in a respectful manner, in particular if they are around Thai people.
Thais have a deep love and respect for King Bhumibol and his death has hit many of them hard," he said.
A number of governments have issued statements to their citizens not just telling them to be aware of any possible security implications following the King's death but to remain respectful as the nation grieves.
"You should respect the feelings and sensitivities of the Thai people at this time," says the latest Thailand travel advice from the UK Government.
Australia, China issue advice for tourists
"Access to entertainment, including restaurants, bars, and shopping areas may be restricted and you should behave respectfully when in public areas; if possible, wear sombre and respectful clothing when in public; check local media regularly and follow the advice of the local authorities."
The Embassy of China issued a statement saying that the King enjoys high prestige and is loved by the Thai people, who are saddened by his death.
It asked Chinese citizens in Thailand "to comply with the relevant provisions of the Thai side during funeral rituals and customs, and consciously safeguard the friendship between the two peoples."
China is the largest source of visitors to Thailand, with almost 3.5 million Chinese nationals visiting between January and April of 2016. The Australian government also issued an advisory to its citizens, urging them to "act responsibly and to respect the feelings of Thais at this difficult time."
Report shared by CNN