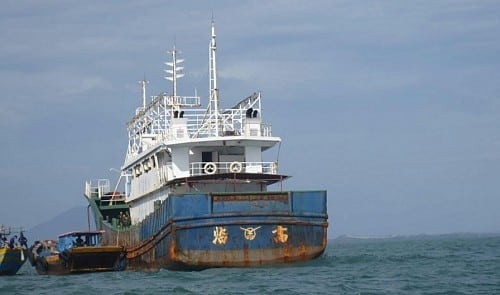 A ghost ship which authorities believe may have originated in China washed ashore with no crew on board in the south-central Vietnamese province of Binh Thuan on Wednesday.
A 40 meter long 12 meter wide iron-hull vessel was found floating about 17 nautical miles off the coast of La Gi Town on Wednesday, according to the local administration.
Follow BangkokJack on Facebook for all Thailand/Asia related news

The ship was towed ashore the following day before an examination was carried out by competent authorities.
Initial information showed that the vessel, potentially a fishing ship, was named Qiong Lin Yu and carried the serial number 19007.
The Chinese letters written on the stern appear to be in the style of those written in Chinese province of Hainan.
The ghost ship was almost completely empty and abandoned.  Its four freezers had broken down and no fishing equipment, anchor, fresh water, or oil was discovered on board.
Inspectors found no documents or personal papers in the boat's sleeping quarters.
Authorities also ruled out the possibility that the ship was attacked by pirates as no trace of blood or damages from ammunition could be found.
The investigation indicated that the boat's two primary engines with a combined capacity of 1,000 horse power had not been started for a long time and there were few communication and navigation tools aboard the boat, appearing as if the owners had already extracted the boat's valuable equipment.
The vessel may have been swept from its port as the result of recent typhoons that struck China.
The Qiong Lin Yu has been towed to the Phu Ha Port in Phan Thiet City, Binh Thuan for storage and further probing.
Report shared by HanoiJack