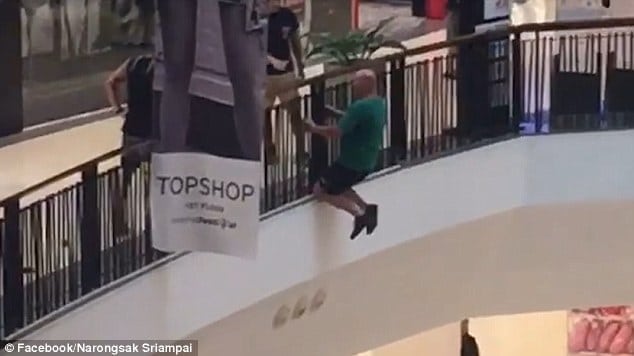 Horrified shoppers scream as 'British tourist' hangs from second floor of Thai shopping centre and threatens to jump after waving away security staff
Dramatic footage shows holidaymaker clinging onto second floor railings
Shoppers at the mall in Pattaya, Thailand, scream as he threatens to jump
Desperate staff try to stop him but the tourist repeatedly waves them away
This is the dramatic moment a foreign tourist dangled from a shopping centre balcony in Thailand as desperate staff tried to convince him not to jump.
Follow BangkokJack on Facebook for all Thailand/Asia related news

Footage shows the holidaymaker, thought to be British, hanging onto the railings on the second floor of a shopping mall in the beach resort of Pattaya in Thailand.
Horrified shoppers can be heard screaming out as the man, aged between 40 and 50, lowered himself and prepared to jump this morning.
A clip taken inside the Central Festival Pattaya Beach shopping mall shows the unidentified tourist kneeling on a tiny ledge while holding on to metal bars high above the ground.
Video taken by Facebook user Narongsak Sriampai shows him refusing to move as others try to coax him to safety.
At one point panic breaks out as he lowers himself into a perilous kneeling position.
According to online reports, staff negotiated with the man for several minutes before he eventually clambered back over the railings.
A separate clip taken by the same person shows him being helped to safety by a crowd of people before shoppers break out into applause.
The identity and nationality of the man have not been revealed and the reason for his actions has yet to be determined.
Report shared by The Daily Mail