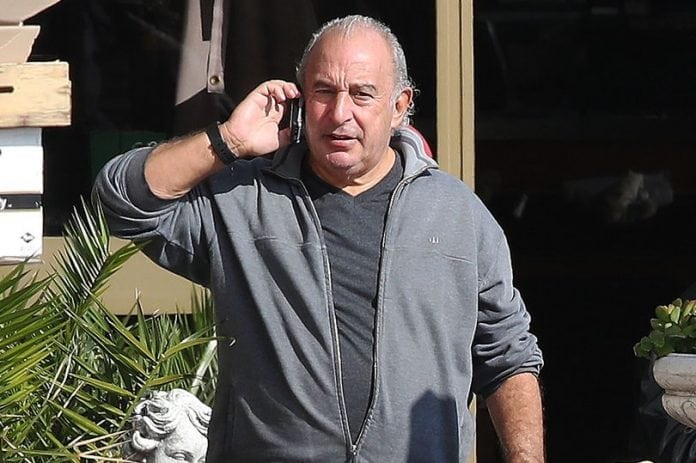 Shamed tycoon Sir Philip Green is finally coughing up £363million to settle the BHS pension scandal in a desperate bid to cling on to his cherished knighthood.
The billionaire arrogantly claimed the deal, nearly a year after the department store collapsed, would put worried pensioners' "minds at rest and close this sorry chapter".
But critics branded the settlement a long overdue attempt to try to hold on to his gong.

Iain Wright MP, chair of the Business Select Committee, told the Mirror: "The two things are completely separate.
"This is welcome but it doesn't wipe the stains from his reputation clean. It's like rewarding an arsonist who put his own fire out."
Mr Wright added that allowing Green to remain a Sir would be the "biggest case of cash for (honours) that we've ever seen."
The settlement came nearly a year after BHS collapsed.
But with many of its 11,000 axed staff still fuming, stores empty and a number of investigations still ongoing into the firm's demise, it is far from the end of the saga.
The £363million is also less than the £400million of dividends Sir Philip's family extracted from BHS in the early 2000s.
Shadow chancellor John McDonnell warned the former high street king was now "on probation. He said: "This is a down payment. We will see how he behaves from here on."
Frank Field MP, chair of the Commons Work and Pensions Committee, said: "There are many other issues to be settled."
Former BHS worker Hannah Cullen, who tried to confront Sir Philip while the tycoon was sunning himself on his £100million superyacht last summer, was clear about whether he deserved his knighthood.
"Absolutely not," she told the Mirror. "I know people who worked for BHS for 20 years whose confidence has been destroyed by what happened."
Another industry insider said: "Sir Philip is writing a big fat cheque and trying to walk away."
The settlement, agreed with the Pensions Regulator and the two pension scheme's trustees, will see Sir Philip hand over £363million from his estimated £3.2billion offshore fortune.
The majority of that, £343million, will go into a new pension scheme.
Most of the remaining £20million has been earmarked for lump sum payments for an estimated 9,000 members with pension pots of up to £18,000.
The new pension scheme avoids members ending up in an industry rescue fund which would have seen their retirement pots slashed by 10%.
However, they will still end up with less compared to if the old scheme, which had 19,000 members, had survived.
For example, workers who paid into the fund before 1997 will only see their pensions rise by 1.8% a year, compared with a maximum 5% under the old scheme.
Payouts on contributions after 1997 are also less generous.
It could mean ex-workers being potentially thousands of pounds a year worse off in old age.
In a highly unusual move, the new scheme will have no company to stand behind it in case anything goes wrong.
The Pension Protection Fund, which would step in if it fails, said it was monitoring the situation.
Theresa May was quick to welcome the deal, saying it would bring "peace of mind" to those affected.
The PM's official spokesman said: "Obviously we welcome the fact that the pensions regulator has agreed this settlement with Sir Philip Green.
"It is a positive outcome which will bring peace of mind to the 19,000 BHS pensioners who have endured a period of uncertainty since the company collapsed."
John Hannett, leader of shop workers' trade union Usdaw, said: "We are pleased that Sir Philip has finally put his hand in his pocket, having promised to 'sort' the pension scheme last June.
"It is difficult to understand why this saga has been allowed to drag on for so long.
"Whilst the details are still not clear, we sincerely hope that this settlement does provide the BHS pensioners with a better deal than they would have got through the Pension Protection Fund.
Sir Philip said in a statement: "Once again I would like to apologise to the BHS pensioners for this last year of uncertainty, which was clearly never the intention when the business was sold in March 2015."
The tycoon controversially sold the chain to investors led by Dominic Chappell, a former bankrupt with no retail experience.
Mr Chappell, through his company Retail Acquisitions, said in a statement: "At long last Sir Philip Green has faced his responsibilities and paid the money to the BHS pension scheme.
"If Sir Philip, a man who is worth billions and was knighted by the government for services to retail, had settled earlier we firmly believe BHS would still be in existence today."
Former BHS office manager Lin Macmillan said she was cautiously optimistic about the agreement but needed to see further details before giving it "the total thumbs up".
The 61-year-old, who lives near Edinburgh, has been drawing her pension since she was 60, and set up a petition urging Sir Philip to 'Sell the yachts pay the pensions'.
She said: "On the surface it certainly looks very positive but I think the devil will be in the detail."
-The Mirror