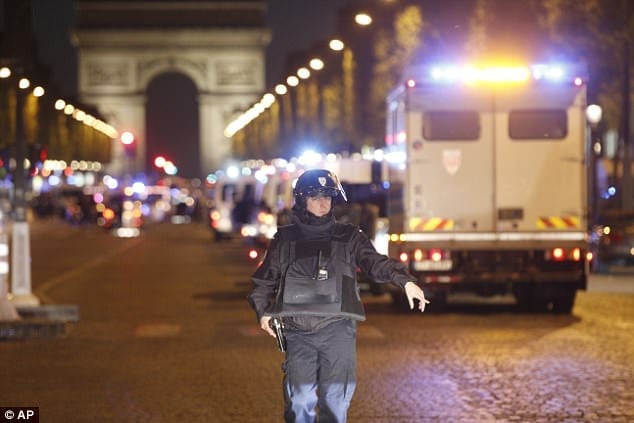 –
A poll earlier this week found that well over half of French police officers plan to cast their vote for the popular anti-immigration politician at the weekend.

–
–

Following today's terror attack on police officers close to the Champs Elysees in Paris this number will have significantly increased.
Also;
Is it time to drive Islam out of Europe?
Beware the mental illness running through Islam
Six questions about the French elections
The rise of the right-wing in Europe
Within minutes of yesterday's attack, French presidential candidate Marine Le Pen tweeted her solidarity with security forces.
In a televised debate soon afterwards, she said: 'We are suffering the consequences of a laxity that has continued for years.'
A study released earlier this week revealed that 65 per cent of French police officers plan to vote for Le Pen in the upcoming polls.
The poll by IFOP found that 65 per cent of frontline officers would support her in the election.
Following the attack, which is believed to have claimed the lives of two police officers, Le Pen has gained more support across the entire country as battle weary French people look for uncompromising leadership.
Le Pen has promised to ban Islamic immigration to France.
Fortunately Islamic fighters have proved to be too stupid to understand that attacks close to a General Election are likely to drive voters to the right which, in turn, will undoubtedly lead to the halting of immigration and, possibly, to the eventual banning of Islam across the entire continent.
-Albert Jack