Sweden falls out of love with migrants: Report finds the liberal nation now has a much more negative view of immigration following spate of sex attacks
Far-right Swedish groups are encouraging lack of tolerance to migration
A report learned that the 'tide was turning' after a series of sexual assaults
Dozens of teenage girls were assaulted by 'foreign youths' at festival in 2016 
Sweden has a much more negative view of immigration following a spate of horrifying sex attacks, a new reports finds.

Researchers found that far-right Swedish groups are encouraging the country's increasing lack of tolerance when it comes to migration.
Also;
Refugee gang rape in Sweden, what cops find on her dress HORRIFIES them
Report: 9 in 10 Gang Rapists In Sweden Have Foreign Origins
Clueless Swedes or lying left-wing pollsters?
The European Network Against Racism (ENAR) carried out research on racism and discrimination towards migrants across 26 EU countries.
They stated that the 'tide was turning' after a series of sexual assaults – including the attack on dozens of teenage girls by a mob of 'foreign youths' at a music festival  in 2016.
Sweden appears to be more progressive than other EU nations on immigration, but is becoming less tolerant, the report concluded.
It said that the media was 'conflating the Muslim community with issues of terrorism and security'.
Read – Is it time to drive Islam out of Europe?
'In terms of immigration and integration policies it appears that Sweden is more progressive than other countries, but the tide is also turning,' ENAR spokesperson Georgina Siklossy told The Local.
'A number of restrictions to existing migration and integration policies have been introduced, and the media discourse has shifted from positive welcoming of refugees and asylum seekers to portraying migration, and by extension, migrants, as a problem.'
'This also has an impact on people who have lived in Sweden for two or three generations and continue to be regarded as "alien elements",' she added.
There were 43 arson attacks against asylum seeker housing in Sweden in 2015 – while a group of masked men assaulted people who looked 'foreign' in Stockholm, the Kantor Center recorded.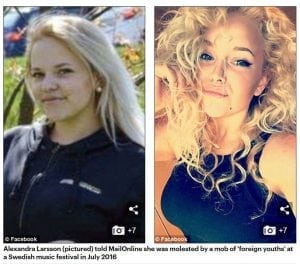 Sweden is one of several EU member states where 'the narrative purports that 'white' European women must be protected from predatory migrant Muslim men,' the ENAR's study added.
The Swedish Democrats launched Anti-Roma adverts in the Stockholm subway in 2015.
The study alleged that this made it 'as obvious as possible that certain migrants are not welcome' and normalize racism against Roma people'.
The adverts prompted public outcry however, and 'individuals as well as organizations' condemned them, ENAR added.
According to The Local, the number of reported rapes has gone up from 4,208 in 2006 to 6,560 in 2016.
It comes after a mob of 'foreign youths' sexually assaulted dozens of females at a Swedish music festival in July 2016.
At least 35 aged between 12 and 17 reported being attacked during the 'Party in the Park' festival in Karlstad, 250 miles from Stockholm in Sweden's Varmland County.
Some of the alleged victims reported being 'kissed and groped' in scenes similar to the Cologne New Year attacks, in which dozens of women reported being assaulted.
Later that month, stickers threatening women with rape if they don't wear headscarves have been posted in the streets of a small town in Sweden.
The sick messages appeared on objects in the streets of Nybro, Smaland, along with stickers calling for democracy to be replaced with Islam.
Pictures of them circulated on social media – but it's not clear who put them up.
In April this year, three men – including two Afghan migrants – were sentenced to prison in Sweden for participating in a gang rape that was live streamed in a closed Facebook group.
The three men, aged 18 to 24, were arrested in January in Uppsala, north of Stockholm, after police received tips about the rape streaming in the group of 60,000 members and interrupted the broadcast.
Two of the men are Afghan citizens and the third is a Swedish citizen of Afghan descent.
Swedish media have published excerpts of the footage, showing at least one of the suspects holding a revolver.
It comes as the Prime Minister of Sweden vowed his country will 'never go back' to recent levels of mass immigration after it emerged the terrorist who killed four people in a truck attack was a failed asylum seeker.
Stefan Löfven pledged to change his country's liberal attitude, insisting the massive influx allowed during the 2015 migrant crisis would never happen again.
Rakhmat Akilov, from Uzbekistan, hijacked the lorry and deliberately drove into pedestrians on central Stockholm's main shopping street in April.
It was a copycat of the attack carried out in London in March, when Khalid Masood killed four pedestrians and injured dozens more with a Hyundai 4×4. Swedish police said there were clear similarities.
Akilov is thought to have carried out reconnaissance along his route days earlier.
Four were killed and 15 injured when he drove a 30-ton truck down a pedestrianised area and smashed into a department store. Chris Bevington, a 41-year-old father-of-two from Britain, was killed close to his office.
But it emerged yesterday Swedish authorities had given Akilov four weeks to leave Sweden after his final asylum appeal failed in December.
He was being sought by police and immigration officials for deportation – but evaded them simply by giving a false address.
'Sweden will never go back to the [mass migration] we had in autumn 2015, never,' Mr Löfven said.
'Everyone who has been denied a permit should return home.
'This makes me feel enormously frustrated. If you have been denied a visa you are supposed to leave the country.'
Sweden has taken in 650,000 asylum-seekers in the past 15 years, 163,000 of whom entered in 2015 alone, according to The Spectator.
Of that figure, 35,000 were 'unaccompanied children' – but anyone can be classed as a child if they look young enough, as proof of age is only asked for if they are 'obviously' older than their stated age.
The Spectator spoke to a number of immigrants who claimed to be younger than they are to minimize risk of deportation.
Elsewhere in Sweden, there are issues not just with ordinary crime, but with terrorism – resulting in a terror level currently set at 'elevated'.
Police say at least 300 Swedes have gone to Syria and Iraq for training as jihadis.
They include Mohammed Tofik Saleh, 34, an Iraqi-born Swiss citizen who was arrested on February 11, authorities say.
It's believed that he and Mahamad Laban, 45, a Lebanon-born Danish citizen, were plotting an attack in Europe when they were arrested in Turkey.
Officials say they had both been training with ISIS since 2014.
And on February 3 a Swedish court turned over evidence found in the country that was believed to be connected to the 2016 Brussels attacks.
That evidence was found in Malmo – a city whose police chief, Stefan Sinteus, asked locals in an open letter this month to help cops stem the 'upward spiral of violence.'
-BBC