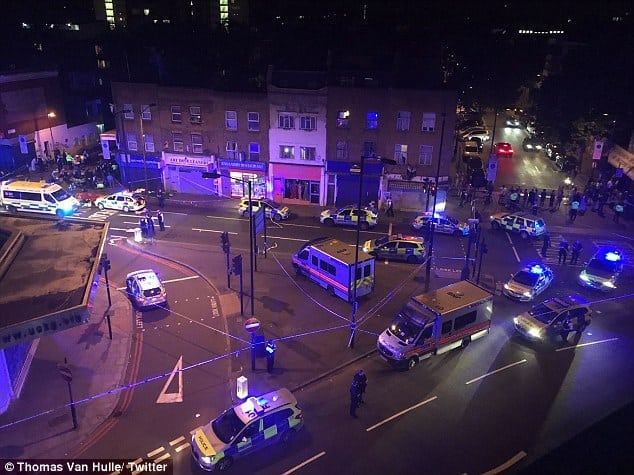 Several pedestrians have been injured after being hit by a van in London.
Witnesses said the vehicle veered off the road into crowds outside Finsbury Park Mosque but it was unclear whether the collision was deliberate.
A spokesperson for the Metropolitan Police said officers were called at 12.20am.
"Officers are on the scene with other emergency services," he added. "There are a number of casualties being worked on at the scene. There has been one person arrested. Inquiries continue."
The Metropolitan Police also say they are dealing with a "major incident" as a result of the collision in Seven Sisters Road, Finsbury Park.
Police did not confirm claims Muslims leaving the mosque after Tarawih prayers performed for the Islamic holy month of Ramadan.
Part of Seven Sisters Road has been closed as the operation continues.
Al Qaeda operatives including "shoebomber" Richard Reid and Zacarias Moussaoui attended the mosque. In 2002, The Guardian reported that weapons training had taken place inside the building.
The mosque rose to notoriety since Abu Hamza al-Masri became Imam of the Mosque due to his extremist ideologies and views on terrorism.
However, in 2003 the Mosque was raided by the Police and shut down. It was then reclaimed in 2005 by the local Muslim community with the help of the Muslim Association of Britain (MAB).
A new board of trustees was installed and completely transformed the Mosque from a hostile place to a friendly and cohesive environment where all members from the local community and wider society were accepted and welcomed regardless of their faith and background.
In 2014, HSBC bank closed Finsbury Park Mosque's bank account. This was due to reported links to terrorism before 2005, based on information provided by the Thomson Reuters news agency. However, the mosque then filed a legal case against Thomson Reuters and won in 2017.
According to classified American documents, released by Wikileaks, Finsbury Park mosque served as a haven for Islamic extremists who subsequently fought against allied forces in Afghanistan.
The incident comes only weeks after three Isis supporters rammed a van into pedestrians on London Bridge before rampaging through Borough Market with knives, killing eight people before being shot dead by police. – Independent


–



You can follow Albert on Twitter and Facebook. Email tips and suggestions to info@albertjack.com – Why not add your thoughts below

–