President Trump has, once again, refused to adopt 'normal protocols' during his first visit to the G20 Summit of world leaders in Hamburg, Germany.
In a move that may have been missed, or ignored, by the mainstream media others have noticed that the American president is not wearing his G20 lapel badge, instead proudly displaying his favoured American Flag.
The Counterfeit News Network may have spotted it but reporting such a move by a patriotic president is clearly not in their unpatriotic interests.
The Commander in Chief has insisted America First is his number one priority since the day he announced he was running for President and his growing list of supporters will pleased to note a leader who is firmly placing the interests of the American people ahead of those infested with the globalist agenda.

–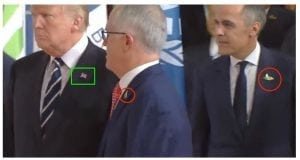 –
Whilst many leaders were meekly displaying the G20 logo on their lapels as they represented their countries the U.S president insisted on keeping his American flag on display.
The move appears to be a calculated one by President Trump who was, no doubt, made aware by organisers what would be expected of each leader in terms of lapel badge.
But Trump clearly couldn't care less about protocol or showing other leaders where his priorities lay. – Albert Jack
–
–
–