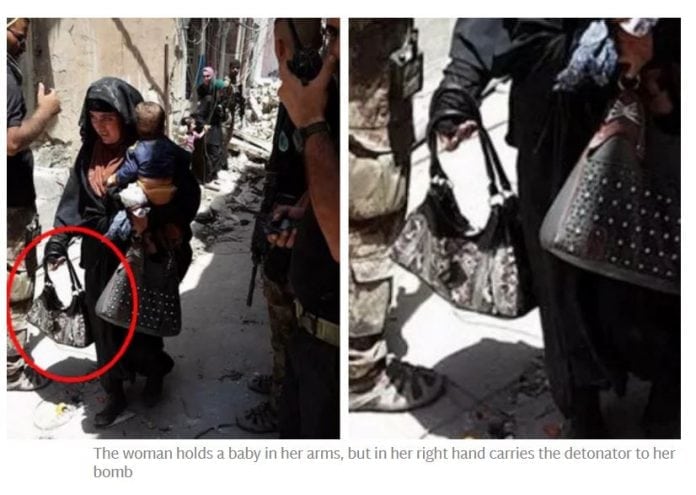 Sickening footage reveals the pure evil running through ISIS as what appears to be an innocent mother and baby fleeing the Islamic State controlled area of Mosul blows herself and the child up.
The image is one we have seen a thousand times before. Bomb scarred buildings, rubble, bullet holes and women with children being evacuated by liberating soldiers. Any right-minded, normally thinking person would have been overjoyed.
She might have been happy that her days of oppression and brutality are over. She had survived and so had her child.
Life isn't like that in some parts of the world. Islam isn't like that.
Moments after the picture was taken this innocent looking woman detonated a suicide vest, killing herself and the child and injuring both Iraqi soldiers and civilian rescuer workers.

–
A

n Iraqi TV station captured the moment she apparently tried to detonate the device, (pictured above) but it failed to go off. She was more successful a short while later.


–
The station had been filming the battle between Iraqi troops and ISIS fighters and did not realise what they had caught on camera until they reviewed their footage later.

–
T

he sick jihadists have used everything in their arsenal to fend off the troops in the final throes of the nine month-long offensive.
ISIS' use of female suicide bombers in battle, while not new, is exceedingly rare and demonstrates the group's desperation.
More than 20 female suicide bombers hiding among civilians are believed to have detonated explosives in the last two weeks.
It is not known if the baby is her own child or, as is thought more likely, a prop she had taken from a desperate hostage in an attempt to get as close as possible to her intended victims.

–
However, o

ne Iraqi general claimed they have been using their own children as human shields.
"The women are fighting with their children right beside them," Lieutenant General Sami al-Aridi said. "It's making us hesitant to use air strikes, to advance. If it weren't for this we could be finished in just a few hours."
Preventing the attacks has proved difficult. Iraq's socially conservative culture means soldiers do not ask women to lift up their clothes to check for explosives as they do men.

– 
I

sil's so-called 'jihadist brides' usually stay at home and look after the children, but experts now say women are becoming more active, wishing to also take part in jihad as their final days approach.
During a recent visit to Mosul, civilians told the Telegraph that the women Isil members were as brutal as the men.
'I was more afraid of the women fighters than the men, they were like wild animals,' said Umm Omar.
She said women in Isil served as hisba, or morality, officers and would ensure females living in the so-called caliphate adhered to the jihadists' strict dress code. She claimed many were whipped and beaten for minor infractions.
– Albert Jack with further reporting from the Telegraph
–
–