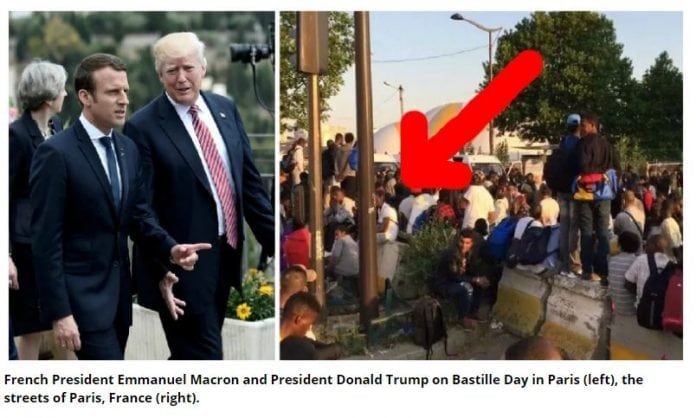 The new French President Emmanuel Macron desperately tried to hide his country's migrant problem from President Trump when the American Commander-in-Chief visited Paris for the Bastille Day celebrations this week.
In an effort to present Paris in a false light Macon ordered that 3000 of the Muslim migrants infesting the streets of the French capital be rounded up and shipped out of town before Air Force One landed.
However, his cunning plan backfired as hundred more emerged before the local authorities had even managed to hose the pavements down and clean the place up in an attempt to erase all evidence of his country's failed 'open-border' policy that he is hoping to encourage the President to adopt in America.
In short, the French President is keen to ship his problem onto the next country, whether it be the United Kingdom or America. However, just as soon as authorities had bussed one group out of the city, another emerged to take their place in the filthy squats and make-shift camps that have appeared.

–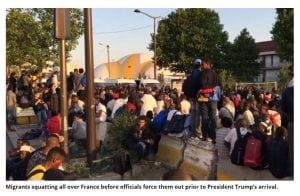 The French have a history of covering up their problem with Islamic migrants. In May two-thousand Afghan and African men were rounded up and moved into hotels, hostels, sports stadiums and civic centres just ahead of a visit by the Olympic Committee as part of their attempt to host the Olympic Games.
Macron's deceit was fruitless as President Trump already fully understands what is happening to Europe. In the recent past he has called the French capital 'no longer Paris,' when referring to it new population of Muslim migrants.
This week French Interior Minister Gerard Collomb admitted the situation was getting out of control despite the opening of new refugee centres. He believed they have only become a magnet to encourage more to follow.
'It's always the same problem,' he said. 'Firstly you say, I am going to open a centre for 500 people and the next thing you know 5000 have turned up and we are left to sort the mess out.'
Across Europe the problem is becoming worse with many governments offering migrants free rail travel in an attempt to move them through their own countries, out of the other side and make it 'somebody else's problem.'
Tensions between European countries is growing and last week Austria sent their army to patrol the border with Italy in order to prevent that country shipping its own migrants through. Italy responded by calling it a 'hostile act.'
Most northern European countries believe that if another European nation, particularly the Mediterranean nations, allow Islamic migrants into their country at one end then that responsibility should remain theirs and should not pass it on for their neighbours deal with.
-Albert Jack
–

–