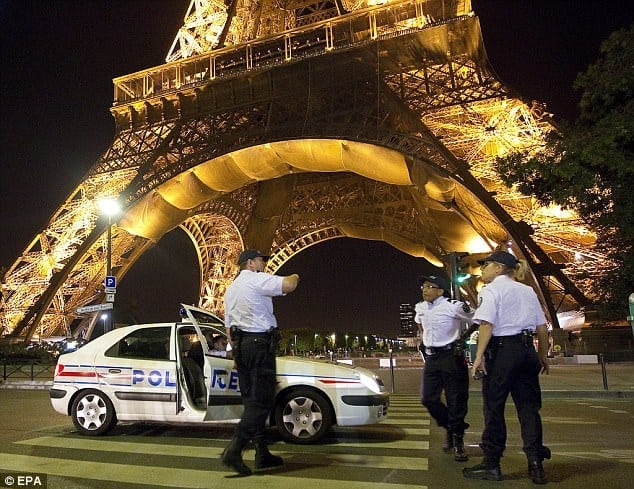 T

hree migrants who reportedly wanted to get into the UK have been caught hiding in the undercarriage of tourist coaches at the Eiffel Tower in Paris.
The buses were parked on Avenue Gustave Eiffel on Thursday evening, an area that's typically teeming with tourists and full of parked coaches.
The migrants were spotted by the coach drivers while the passengers were visiting the tower.
"They were found hiding under the buses and hanging in the wheel arch. Our driver approached the local authorities as soon as he noticed," Hemang Shah, the director of Star Tours, told The Telegraph.
Police sources told Le Parisien newspaper that the three migrants, aged between 15 and 22 and from Eritrea and Sudan, had hoped to take the buses all the way to the UK, but were taken by police to a local detention centre "without incident".
Police have refused to comment officially on the matter.
"We are not giving any further details about this case," Raphaël Biron of the Paris police told The Telegraph.
While police sources told the French media that the case was "a first" in terms of migrants taking advantage of tourist coaches in Paris, tour bus workers tell a different story.
Mr Shah of Star Tours says that buses with his customers have had similar incidents at the Eiffel Tower this year.
H

e said that several months ago, migrants managed to make it all the way from the tower to a Paris hotel before fleeing.
"We've told all our drivers to keep an eye out and to keep the bus locked, but if someones in the undercarriage then it's beyond our control," he said.
Since the Calais "Jungle" migrant camp closed, hundreds of migrants have grouped in Paris, prompting the city's mayor Anne Hidalgo to call for more welcome centres around the country. – Telegraph
–
–
You can follow Albert on Twitter and Facebook and comment on the story below
–