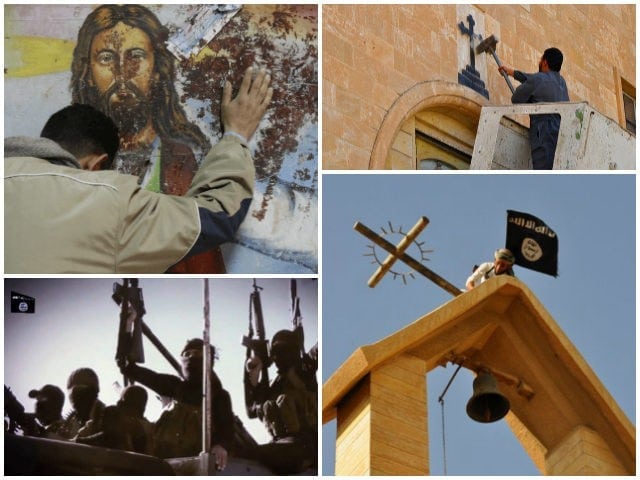 President Donald Trump used three tweeted videos to highlight the hostility of Islam's ideas towards non-Muslims — prompting a huge pushback by progressives who focused on the process, not the message.
The first video showed a Muslim youth being thrown to his death by Islamic activists during 2013 anti-government rioting in Cairo, Egypt.
The rioting took place after the military removed Egypt's Islamic government, which was controlled by the Egypt-based Muslim Brotherhood. The alleged murderer, Mahmoud Ramadan, was hanged in 2015.
VIDEO: Islamist mob pushes teenage boy off roof and beats him to death! pic.twitter.com/XxtlxNNSiP

— Jayda Fransen (@JaydaBF) November 29, 2017

A second video shows Muslim destroying a Christian statue deemed by Muslims to be a false idol. Islamic law considers Allah to be the only deity and it bars worship of deceased people.

The video ends with the Muslim calling for "Takbir," an affirmation of Islamic faith. He gets the orthodox response, "Allahu Akbar," meaning "Allah is Supreme," which also means that Allah is the single deity supreme over all others, including Mary, the mother of Jesus.

VIDEO: Muslim Destroys a Statue of Virgin Mary! pic.twitter.com/qhkrfQrtjV

— Jayda Fransen (@JaydaBF) November 29, 2017

The remaining video is widely described as a fake. It shows a normal Dutch youth — not a Muslim — attacking another Dutch youth.

"The perpetrator was not a Muslim, let alone a migrant, but simply a Dutchman," said a translated statement on the website which published the video.

You can decide that for yourselves.

VIDEO: Muslim migrant beats up Dutch boy on crutches! pic.twitter.com/11LgbfFJDq

— Jayda Fransen (@JaydaBF) November 28, 2017

Trump retweeted the videos from the "Britain First" group, which is a considered extreme in the United Kingdom. A spokesman for the Prime Minister said the group spreads "hateful narratives which peddle lies and stoke tensions."

"The president retweeted to his 43.6 million followers videos posted by Jayda Fransen, the deputy-leader of Britain First, a far right nationalist party," said Newsweek.

"The reaction is that he is endorsing a far-right group, but they describe every group that opposes jihad terror as 'far right,'" said Robert Spencer, the author of several best-selling books on Islam and also the operator of the JihadWatch website.

Trump "is not endorsing the group — he is calling attention to Muslim persecution of Christians and to the brutality of some Muslims in Islamic countries."

In a press conference aboard Air Force One en route to St. Louis, Raj Shah, the White House principal deputy press secretary, was hit with a swarm of questions about the source of the videos, not about the aggressive doctrines in Islam.

–

More – Inbreeding and the effects on Islam

More – The Slow Death of Europe

More – Is it time to drive Islam out of Europe?

Follow – Europe in Danger on Facebook

–

You can follow Albert on Twitter and Facebook. Or join the free mailing list (top right)

Feel free to comment on story below