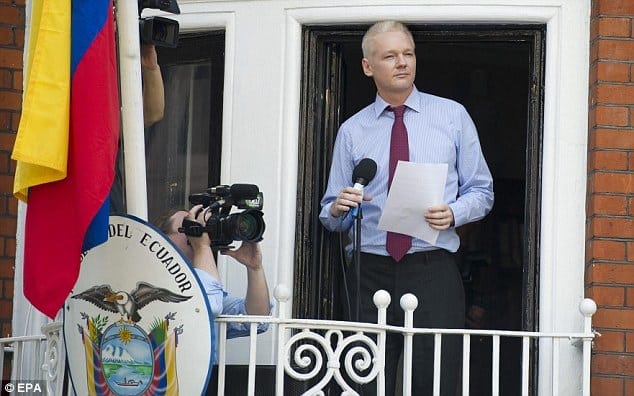 Wikileaks founder Julian Assange has slammed the UK government over their hypocritical claims about being committed to free speech. 
In an angry tweet, Assange slammed the government after Britain's official UN account tweeted "A free and independent media fulfils a vital role in holding the powerful to account and giving a voice to the powerless," with a link to a propaganda piece praising the UK's commitment to free speech.
Zerohedge.com reports: Assange – apparently not included in the UK's definition of "free and independent media" (facing arrest and detention should he leave the Embassy), fired off a stunning reply – claiming that the UK's has spent roughly twice as much spying on him as it has on their entire international human rights program.
"And that is exactly why you have detained me without charge for eight years in violation of two UN rulings and spent over 20 million pounds spying on me you hypocritical mother fuckers. Your entire international human rights programme is £10.6m you pathetic frauds."
And that is exactly why you have detained me without charge for eight years in violation of two UN rulings and spent over 20 million pounds spying on me you hypocritical mother fuckers. Your entire international human rights programme is £10.6m you pathetic frauds. https://t.co/wjSQnmM5jp

— Julian Assange ⌛ (@JulianAssange) March 9, 2018

Assange then followed up with "Remember how I exposed your secret deal to put Saudi Arabia on the Human Rights Council?" referring to a 2015 vote-trading deal in which the UK approached Saudi Arabia in secret, promising it a seat on the UN Human Rights Council in exchange for council support.

Remember how I exposed your secret deal to put Saudi Arabia on the Human Rights Council? https://t.co/SE4d7aQ1mp

— Julian Assange ⌛ (@JulianAssange) March 9, 2018


Assange, 46, remains confined in the Ecuadorian embassy in London following a failed appeal of his arrest warrant for skipping bail to enter the embassy in 2012 to avoid extradition to Sweden over allegations of sexual assault (which Sweden has dropped).

The UN, meanwhile, has twice ruled that Assange's detention is unlawful. Despite this, the judge in his most recent appeal – Emma Arbuthnot, who said "I find arrest is a proportionate response even though Mr Assange has restricted his own freedom for a number of years."

Judge Arbuthnot's impartiality in the Assange matter has been called into question, while her husband and ex-Conservative MP, Baron James Arbuthnot, is listed as the director of a security company along with the former head of MI6. Not exactly friends of WikiLeaks.

Moreover, a February report from the Guardian reveals that Sweden wanted to drop their case against Assange as early as 2013, but was pressured by the UK to maintain it.

The newly-released emails show that the Swedish authorities were eager to give up the case four years before they formally abandoned proceedings in 2017 and that the CPS dissuaded them from doing so.

The CPS lawyer handling the case, who has since retired, commented on an article which suggested that Sweden could drop the case in August 2012. He wrote: "Don't you dare get cold feet!!!". –The Guardian

Assange Drops Bombs

In yet another angry tweet by the WikiLeaks founder, Assange replied to a two-week old comment by former Eric Holder – blaming the former Attorney General for putting him in the position to release emails from the DNC, Hillary Clinton and John Podesta during the 2016 US election.

Ostensibly getting ahead of the upcoming midterm elections in November, Holder tweeted "Russian threat to our upcoming elections: do something!" Holder then called for sanctions, ending the tweet with "

Assange replied: "Attacked? By what? The truth? It's entirely your own fault, Eric. Thanks to your unconstitutional grand jury against @WikiLeaks you left me with nothing to do but work 24/7, in harsh  conditions, for years–and I'm good, very good, at my job."

Holder, who was President Obama's Attorney General, attempted to prosecute WikiLeaks and Assange personally over the publication of military documents and US diplomatic cables regarding Iraq and Afghanistan.

"Russia-theorists" – particularly neoconservatives and hawkish Democrats, have maintained that WikiLeaks is a "cutout" for Russian to engage in information warfare, and blame Moscow for the theft and publication of the leaked emails.

Assange added to his response to Holder, tweeting "Next time, not that there will be one, try following the constitution you swore to uphold," with a link to a 2014 article calling for Holder to drop the investigation against WikiLeaks or resign.

–

More – Inbreeding and the effects on Islam

More – The Slow Death of Europe

More – Is it time to drive Islam out of Europe?

Follow – Europe in Danger on Facebook

–

You can follow Albert on Gab Social Network or Twitter and Facebook. Or join the free mailing list (top right)

Feel free to comment on story below