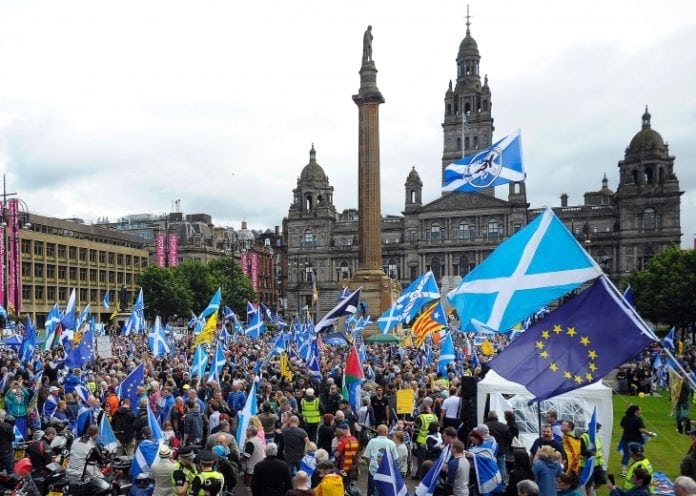 Keeping Scotland's border open to an unlimited number of migrants after Brexit is a top priority for the nation, Brussels heard this week.
Speaking at the EU's Committee of Regions (CoR) on regional perspectives around Britain's withdrawal from the bloc, Mairi Angela Gougeon voiced a number of talking points used by the Scottish government to insist that the nation needs continued mass migration after Brexit.
According to Euractiv, the SNP member of Scottish Parliament said that while Scotland is keen to hold on to full access to the Single Market and Customs Union after leaving the union, "the real prize" in Brexit negotiations would be continued freedom for EU migrants to move to Scotland.
Without freedom of movement, Gougeon claimed the nation would lose £10 billion by 2040 — a figure produced by the Scottish government which has been savaged by Migration Watch UK.
Yes, that makes sense… https://t.co/chFXa96SZf

— Breitbart London (@BreitbartLondon) February 20, 2018

In its response to the SNP document, the migration policy watchdog noted that "what is categorised as a potential 'cost' is not based on a claim lower immigration would lead to an actual shrinkage in the economy, but an estimate that it could lead to a lower rate of future economic growth".

"We have an ageing population and without migration, we will really struggle to fill that gap," Gougeon insisted at the conference, repeating a claim that Migration Watch notes"has been dismissed by all serious studies".

The Scottish representative's remarks came as the nation launches a £6 million campaign hoping to attract would-be migrants, students, and tourists by branding Scotland as "one of the most open countries in the world".

"Scotland is welcoming. Scotland is Multicultural", states the initiative, which will be pitching the recent importation of more than 2,000 Syrians and institutionalised feminism and LGBT activism as part of attempts to promote the nation overseas.

Declaring Scotland "one of the most progressive countries in the world", the campaign boasts of how it lavishes taxpayer cash on events to "celebrate and promote the LGBTI community" and is reviewing already very liberal gender laws in a bid to top Europe's 'Rainbow Index' of countries dedicated to boosting minority sexualities.

–

More – Inbreeding and the effects on Islam

More – The Slow Death of Europe

More – Is it time to drive Islam out of Europe?

Follow – Europe in Danger on Facebook

–

You can follow Albert on Gab.ai and Minds or Twitter and Facebook.

Or join the free mailing list (top right) and feel free to comment on story below