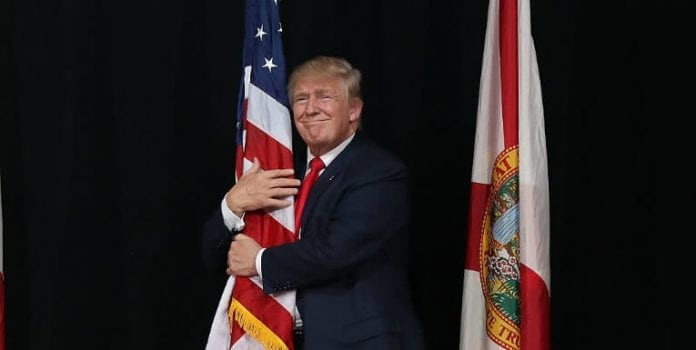 President Donald Trump's first State of the Union speech was mostly well-received by the American public, and his remarks on immigration policy were no exception, according to a poll of people who watched the address.
Outlining his policy vision for the upcoming year, Trump used inclusive rhetoric to defend a strongly nationalist immigration agenda.
He offered a "down-the-middle compromise" that would set a path to citizenship for 1.8 million younger illegal immigrants, nearly triple the number of people covered by the soon-to-expire Deferred Action for Childhood Arrivals (DACA) program.
In return, he called for tighter limits on extended-family migration, an end to the diversity visa lottery, and a wall along the southwest border — reforms he said would create a create a "safe, modern, and lawful immigration system."
More – Here's Trump's approval rating in every state
A huge majority of Americans agreed with that immigration framework, a CBS News State of the Union survey found. Nearly three-quarters — 72 percent — of poll respondents favored the specific proposals.
The positive response to Trump's immigration framework was in keeping with the reception of the speech as a whole, according to the CBS pool. Among those surveyed, 75 percent approved of the Trump's remarks, and 81 percent felt he was trying to unite the country.
The survey is based on responses from 1,178 viewers. The poll's margin of error is plus or minus 3.1 percent.
The CBS survey of State of the Union watchers echoes recent polling that shows broad support for Trump's immigration framework.
A Harvard-Harris poll released earlier this month found that 65 percent of American voters agreed with the proposition that any bill codifying DACA protections should be accompanied by funding for a wall, ending chain migration, and ending the diversity visa lottery program. – DailyCaller
–
More – Inbreeding and the effects on Islam
More – The Slow Death of Europe
More – Is it time to drive Islam out of Europe?
Follow – Europe in Danger on Facebook
–
You can follow Albert on Twitter and Facebook. Or join the free mailing list (top right)
Feel free to comment on story below